Trimming 101
All you need to know to trim and maintain the feet of your horse.
Revised Edition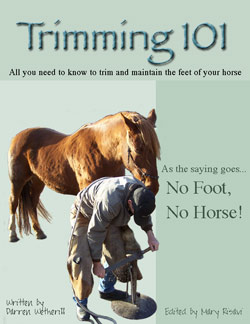 New features include:
- 23 Video clips of Darren showing how to trim
-50% More pictures
-New Chapter
18% More pages
Stress-free easy to understand trimming is possible! Learn the proper way a horse's hooves should be trimmed with this easy to read step-by-step guide.

Trimming 101 is a fun and easy guide to learn how to trim your horses feet. With these skills you can improve the quality of your horse's feet yourself or ensure the farrier is doing a quality job.

Hi everyone, my name is Darren Wetherill, and I am a horsemanship instructor who specializes in equine communication. I communicate with horses using humane horseman tools, and have an excellent understanding of prey animal psychology.
I am a farrier by trade, with a life time of experience working with horses. I desire to share my knowledge of trimming with others so they may increase their horse's health and encourage farriers to do the same.
They say that a horse is only as good as its feet so why not learn to be able to provide your horse with the best feet possible! Let me save you from the pain and frustrations I had to go through with my Trimming 101 ebook!

Would you like to learn how to trim your horses feet?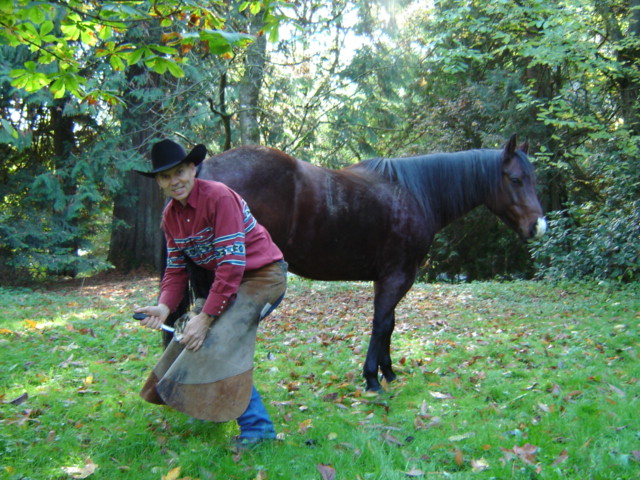 In this 45 page Trimming 101 ebook you will learn each part of the hoof in detail and understand where the sensitive and insensitive areas are. Then you will find out what the landmarks are of the foot so you can proceed to make the first cut with confidence that you will not injure the horse. You will also discover how to shape and balance the hoof so the horse's feet achieves their maximum structural potential. This will increase your horses overall performance by improving their stride length and foot flight pattern. By improving and maintaining the horses hooves you will increase it's longevity and will eliminate unnecessary foot pain caused by improper hoof care.
· Save money by trimming your own horses feet
· Ensure that the farrier is doing a proper job and is removing the flare
· Help your horse move without any unnecessary discomfort
· Understand how to trim the hoof so it allows for self cleaning
· Learn how to keep proper posture to preserve your back
Whether you are interested in learning how to trim or would just like to know what a good trim is, this resource can be used as a basic reference. Also, if you are currently trimming horses you can refer to this ebook for helpful information such as how to trim with proper body posture to preserve yourself. Once you learn these skills you can benefit from them for the rest of your life.

Access to online video clips!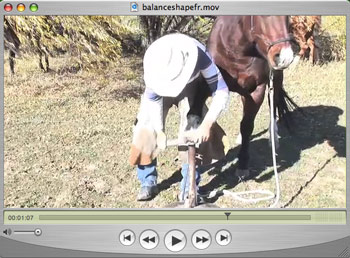 Now included in this revised edition is 23 video clips that provide a visual aid for your learning experience. These video clips are designed to compliment the e-book so you have a clear image of how the trimming procedures are done. The clips will also help you improve your techniques which will give you confidence to get the job done with ease.
**Please note that some of these video images are around 10MB and could take longer to upload with a dail-up internet connection. If you wish to have these videos burned on a CD please e-mail darren@thehorsewizard.com for more information.

Updated pictures and new additional images added!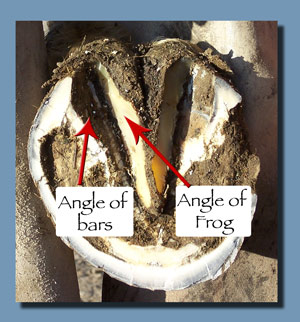 New detailed images have been added to help you in understanding the trimming procedures. Some include arrows and diagrams that will explain in detail the information shared in this e-book.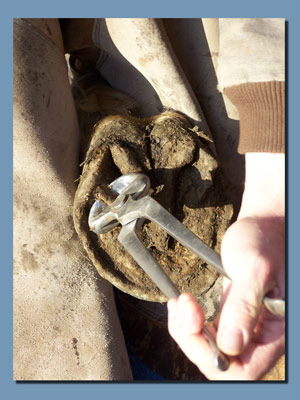 These upclose images clarify exactly where the trimming is done on the hoof.
In addition, all the original images have been enhanced to compliment the revised e-book.

Benefits~
The benefits of knowing how to trim a horses foot include:
-Save money!
-Increase the horses performance and longevity
-Knowledgeable on how a healthy well trimmed foot looks like
-You will know if the farrier is giving you good value with his quality of work
-You will be able to prevent problems from occuring by trimming when needed
-Have aesthetically appealing feet on your horse
-You will understand proper body posture to preserve your back
Bid Now
Trimming 101 regularly retails at $19.97 US.
Now available for auction on eBay!

This valuable resource is delivered in Adobe PDF format, and is compatible with both Mac and PC computers.
100% Satisfaction Guarantee
I offer a 100 percent 30 day money back guarantee, no questions asked. If you are not happy with this ebook you can return it for a full refund, no hassle, no fuss. I am convinced you will benefit from what I have to share - just see what others are saying about my ebook!

Learn More About Darren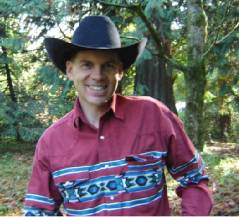 I was born and raised in BC, Canada. I studies farrier science in college and performed farrier work for 20 years. I've trimmed all sizes and shapes of hooves in almost every imaginable condition. Over the years I have learned how to improve my trimming skills to increase the horses longevity and have also learned how to preserve by back by maintaining proper body posture. I would like to share all the helpful information I have learned with others so they may learn how to properly trim horses feet. Once they understand how to do this they will increase the horses performance and longevity and will also prevent from injuring themself.