Horse Wizardry
"Riding On"
Because There's Magic In Communicating With Horses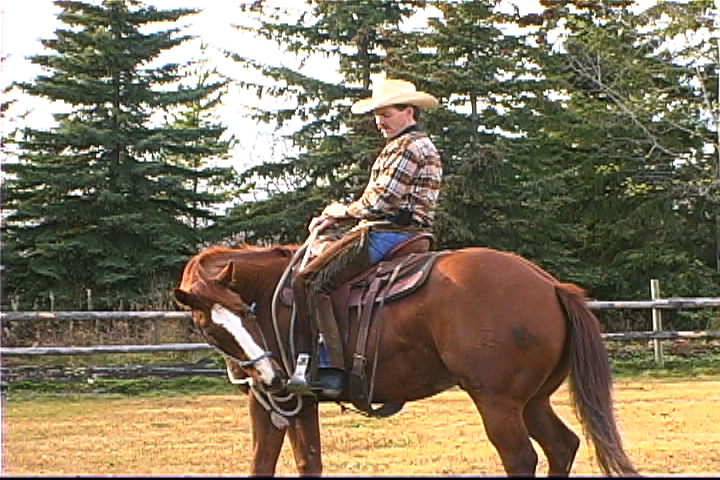 Professionally recorded with superior quality image and sound produced by Eagle Vision Video Production. Running time is 1hr.
Learn to be your horse's best friend and get #1 results in your arena with this informative horsemanship VHS Video or DVD geared towards 'Riding On'.
Darren Wetherill teaches a safe, effective way to teach your horse to have a great attitude towards being rode everytime!
Just loving to ride isn't enough if you are unable to ask for what you desire when you are riding. You will get information on this video about how to use your equipment in the most effective way to ask politely yet firmly for what you want when you are riding. You will find the fundamentals that create a solid foundation for riding and a life long friendship with your horse. When you know how to control the emotions of your horse then you are definitely going to be able to get more done and have more fun. Learn more about the language of the horse from the horse wizard himself.
This video is a continuation from the first Horsewizardry Video "From Ground to First Ride" where you saw how to handle a horse with respect, efficiency and fun. The first times you work with your horse will set the stage for a lifetime relationship. So "Riding On" is definitely about continuing to establish and develop a great attitude towards riding, for both you and your horse. Having fun, creating a safe environment and two-way respectful communication is going to allow you to get the most out of the horse human relationship.
Are you ready to transform your relationship with your horse?
Are you ready to take your communication to a higher level and be your horse's friend while in the saddle?
How would you like to have fun communicating with your horse using these easy-to-learn tools and techniques?
Brand new, in the box, delivered straight from the Horse Wizard himself!
Having worked with horses all my life, I've found this is one business you can literally get kicked out of. Let me help you save your ass from a kicking' with this Horse Wizardry resource!
I can show you how to experience the magic of communicating with horses. You can become a wiz at performing horses in your desired discipline. Master these skills and communicate effectively with any horse, in any field. You will learn how to create harmony in your relationships with them when you learn to communicate in a way the horse understands.
Benefits~
The benefits of learning Horse Wizardry for riding include:
-More horse performance with less of your effort
-Horse is eager to perform for you
-Safer to be around
-Requires less effort in training
-More cooperative horse
-Having a calmer horse that looks to you as a leader
-More confident, trustworthy horse
-Your horse business will be more profitable
-Way more fun!!!
There can be magic in your relationship with your horse. Let me show you the artful way of communicating with your horse in his language so riding for you and your horse can be more fun.
In this Horse Wizardry video Darren covers safety, establishing a leadership role with respectful communication techniques when riding, and developing a willing attitude in a horse with someone on its back.
*Increase effectiveness with masterful communication based on prey/predator psychology
*Learn how to communicate with your horse in a way that supports enthusiastic performance
*Use techniques that allow your horse to be calmer and more trusting after training
Communicating with your horse is essential to optimize his performance and willingness
Whether you are a beginner or advanced rider, this video will explain how to train your horse for "Riding On" with a good attitude. This resource can be used as a solid reference at any stage in your horse's career if he is lacking in any of the above areas. Once you learn these skills you can benefit from them for the rest of your life!
100% Satisfaction Guarantee
I offer a 100 percent 30 day money back guarantee, no questions asked. If you are not happy with this product you can return it for a full refund, no hassle, no fuss. I am convinced you will benefit from what I have to share - just see what others are saying about my video!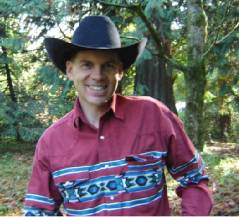 Learn More About Darren~
People watch me work with horses and say it looks like magic, and that I'm a wiz with horses. That's where the name Horse Wizard came from.
I was raised in an environment where horses were a necessary part of making a living. I grew up driving draft horse teams and riding stock horses. After becoming a farrier and getting kicked around dealing with disrespectful horses, I embarked on a quest to find an effective way to communicate with horses.
I sought out the best horseman and horsemanship instructors in North America, to develop myself as a true horseman. I have studied with several master horsemen such as Ray Hunt, Lee Smith, and Pat Parelli. I graduated from Parelli's horsemanship training program and have read every book possible on the subject of horsemanship and communicating with horses.
In addition, I have started dozens of young horses and re-schooled several older horses that people perceived as problem horses. Whether you have a new foal, a mature horse, or a mule, all will respond well to this approach and these techniques, even wild and disturbed horses.
I would like to share what I have learned are the easiest ways to prepare your horse for safe riding and handling. What I am sharing works with every horse, because it's how horses have always communicated.
Testimonials~
"I recognize the value of this video to assist me while I go from beginner to advanced training with my horse because it is an actual training session and I pick up on what I am ready for each time I watch it." Troy Haverland
"It wouldn't matter what my riding discipline is, this video pertains to horses period and I really appreciate the way Darren shows us how it is done!" Gary Strong
"As a beginner horseperson I appreciate Darren's straight-forward approach and easy to understand principles shared in Horse Wizardry. Practicing Horse Wizardry helps me feel connected with horses and nature." Mariah Hunter
Again, I am thankful for the way Darren presents the concepts of horse human communication. I find that I pick up on some thing every time I watch this video it makes my time with my horse easier and way more enjoyable. Amy Brown
My riding ability and my horses' attitude has improved dramatically and quickly once I watched this video. I highly recommend it to anyone that chooses to get the most out of their relationship with their horse! Kevin F.